UAVAid was delighted and honoured to be invited to exhibit on the Palladium / DFID stand at the International Disaster Response Expo 2018, 28-29 November 2018.  The expo was held at London's Olympia, in Kensington.
A 1/2 scale model of the Hansard UAV was displayed on the stand, attracting much attention.  Considerable interest was generated due to its ability to provide speed, cost and reach improvements over incumbent methods in disaster response and Development scenarios.
UAVAid co-founder, Daniel Ronen said "We are honoured by the invitation by Palladium/DFID to exhibit on their stand and help to showcase innovation in the Development sector.  The work of the department in supporting innovation is highly valued and an opportunity to engage with the wider Humanitarian and Development communities helps to build awareness.  It is important that all efforts are made to support the appropriate and responsible implementation of technology and innovation, so that the benefits can be realised to those most in need as quickly and effectively as possible."
Also on the stand were a number of representatives from DFID and Palladium, including Rob Stevenson of DFID and Jon Barden MBE of Palladium.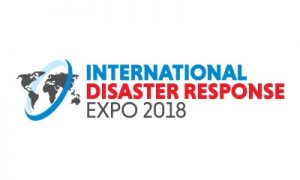 The model of the Hansard UAV was prepared for UAVAid by Polaris Models